Workshop on Cyberlaw, ICANN and Software Patents
with Lawrence Lessig, Jeanette Hofmann, Rob Blokzijl and Daniel Riek
Montag, 10.4.2000, 16 - 21 Uhr
Roter Salon der Volksbühne, Rosa-Luxemburg-Platz, Berlin
-- in englischer Sprache --
Program
Participants
Lawrence Lessig
Jeanette Hofmann
Rob Blokzijl
Daniel Riek
Groups
Thanks
Links on:
Cyber Law & Internet Governance
ICANN
Software Patents

The workshop provided an opportunity for the free software and hacking crowd to meet one of the foremost specialists on cyber law and Internet governance, Lawrence Lessig. Additionally to introducing fundamental concepts like regulation through code, the workshop addressed two current issues.

One was ICANN, the Internet Corporation for Assigned Names and Numbers. The elections of the membership at large to its board of directors is currently under preparation and expected in fall. Jeanette Hofmann gave an introduction to this issue.

The other was the decision of the European Commission's DG XV expected in June on whether or not to introduce software patenting in Europe. The introduction here was given by Daniel Riek. The focus of the workshop was on discussion.


MC: Volker Grassmuck (mikro, HU)


Prof. Lawrence Lessig
Homepage
<lessig@pobox.com>
Berkman Center for Internet & Society, Harvard Law School
specialist in Internet governance and in open law
expert in United States v. Microsoft
visiting researcher at Wissenschaftskolleg zu Berlin (9/1/99-7/31/00)

Selected Publications

Dr. Jeanette Hofmann
Wissenschaftszentrum Berlin
<jeanette@medea.wz-berlin.de>

Jeanette Hofmann studied Political Science at FU Berlin. Since 1990 research in sociology of politics and technology at the Science Center Berlin (WZB) and at TU Berlin. 1992 Ph.D. on "Implicit Theories" in technology politics. Followed by work on the digitalization of writing and "User Interface Design" in the framework of the research on the genesis of technology at WZB. 1994 founding of the Projektgruppe "Kulturraum Internet" (Final Report: "Internet... the Final Frontier: eine Ethnographie", Deutsch, English). Empirical Studies on net culture and network organization; case studies on the Internet Protocol and its continuing development.
Current research interests: Internet Governance in the narrower sense (ICANN as new Internet government) and in a widers sense (technical and political forms of digital ordering of space).

Selected Publications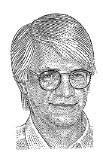 Rob Blokzijl
Homepage
Siberian Homepage
<k13@nikhef.nl>
Director of the Board of ICANN
Robert Blokzijl is a founding member of Réseaux IP Européens (RIPE), the European open forum for IP networking. Since its foundation in 1989, he has been chairman of this organization, and was instrumental in the creation of RIPE NCC in 1992 as the first Regional Internet Registry in the world.
Prior to this, he has been active in building networks for the particle physics community in Europe.
Robert Blokzijl graduated from the University of Amsterdam (1970) and holds a doctorate in experimental physics from the same university (1977). He is currently employed by the National Institute of Nuclear Physics and High Energy Physics (NIKHEF).
Rob was selected for the ICANN Board by the Address Supporting Organization.


Daniel Riek
<riek@id-pro.de>
Co-founder and board member of ID-PRO AG,
member of the managing board of Linux Verband LIVE.
Daniel Riek has been involved with computers since his early years and was already active on Fidonet before he discovered the Internet in 1992 and LINUX in 1993. Free Software btw, was already important in the days of Fidonet. After graduating from high-school in 1993 and concluding his civil service, he started studying computer science in Bonn in 1994, which came to an early end with the founding of ID-PRO in 1997. From 1997 he was managing director of ID-PRO GmbH, and since summer 1999 he is member of the board of ID-PRO AG. Since LinuxTag'99 he is also member of the managing board of Linux Verband LIVE.
ID-PRO understands itself as an open source consulting and service corporation, a commitment to free software is part of their concept. Therefore, both in the name of LIVE and in that of ID-PRO Daniel Riek opposes the introduction of software patents.

Selected Publications
Groups
mikro
Computer Science & Society of Humboldt University
Berliner Linux User Group (BeLUG)
CCC Berlin
Individual Network Berlin

Special Thanks to
Roter Salon
OVA
Linux Information Systems AG
LunetIX
DV-Cameras: Gusztàv Hàmos, Oleg Stepanov, Christoph Keller, Thomax Kaulman
Chat: Sebastian Lütgert, Walter van der Cruijsen, Ulrich Gutmair
Networking & digi-pics: Wilhelm Schäfer (mind), Boris Weigelt, Robert Fürst
Support: Diana McCarty, Pit Schultz, Ellen Nonnenmacher, Inke Arns, Tilman Baumgärtel, Thorsten Schilling

Ulrich Gutmair, Die Politik des Code (Telepolis, 17.4.2000)
Tilman Baumgärtel, Patent auf den Gärtner als Mörder. Verhindern Softwarepatente wissenschaftliche Fortschritte und wirtschaftliche Innovation? (Berliner Zeitung, 12.4.2000)
Stefan Heidenreich, Kontrolle oder Kreativität. Was ist Cyberlaw? Lawrence Lessig über das Recht des Internts, (FAZ, 12.4.2000)